You can't see them. You can't hear them. You can't smell them. For the most part, they fly under your radar. Until you experience them. Frozen pipes are unpleasant when they happen in your home, but even more so if they affect your business.
Read on to see information about frozen pipes, how they happen, what you can do to prevent them, or if you're in a real pickle, what you can do right now to combat them.
Why Pipes Freeze
What keeps pipes from freezing is flowing water, so when they do freeze it's because there is a buildup somewhere in your line. Buildups can happen for a number of reasons including corroded pipes, low points, or from debris infiltrating your system, though this is not common.
Did you know that pipes can freeze even if they don't have water in them? To see why dry pipe systems like nitrogen or pressurized air can still freeze, read our full article about Why Pipes Freeze.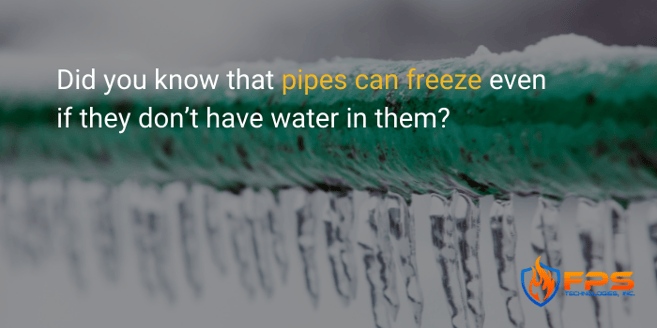 How to Prevent Pipes from Freezing
Burst pipes can wreak havoc on your business. If you've ever worked in a warehouse or restaurant, you know that if a pipe were to burst during one of your busiest months, it could destroy inventory, or even worse endanger the lives of you and your employees.


The best way to combat freezing pipes is to focus on preventing them.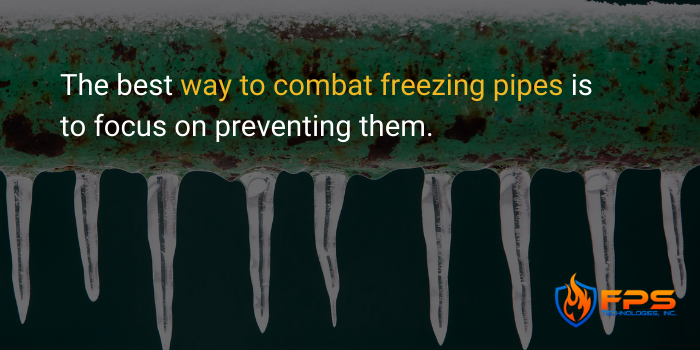 Proper heating, insulation, and repairing cracks are three of the best things you can do as a business owner to keep your pipes in healthy working order. For a more detailed description on how to prevent pipes from freezing, you can read more in our article.
The Real Cost of Your Building's Pipes Freezing
One of a property manager's biggest priorities is keeping the yearly budget low, but that sometimes means overlooking necessary investments in maintaining life safety systems, like your sprinkler system. However, we recommend that your company allocate $750-$1000 a year to regular pipe maintenance. In the event of an emergency, like a frozen pipe, the repair costs can be much more than your yearly maintenance investment.
The other cost to pay attention to is potential damages. These can range from the minimal damages caused by leaks in your drywall and ceilings to major pipe ruptures, which can lead to flooding and destruction of your property. Depending on your field of business and what you use your property for, the costs of damage can be immeasurable.
2 Things Property Managers Should be Aware of During Winter
Bad budgeting mostly occurs because upgrades to your property's aesthetics or investments in growth take precedence over preventative maintenance measures. Not to say these upgrades are less valuable when it comes to your revenue, but preparing for the worst is the first step in becoming your best.
Seasonal turnover in employees or bringing on a new manager can adversely affect the regular check-up schedule for your life safety systems. Properly training new employees to make sure they check pipes and know what to look out for can provide many benefits for your business in the long run.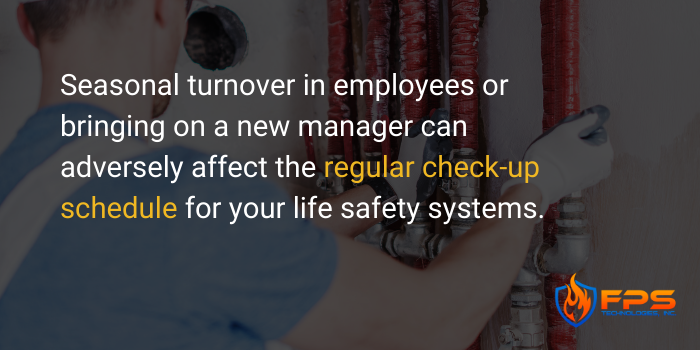 For a more detailed description of bad budgeting and seasonal turnovers, and what you can do to prevent their adverse effects, see our article here.


What To Do After Pipes Freeze in Your Building
First of all, don't Overreact! Step one is to see the problem as it is, which means that you shouldn't panic, otherwise you may risk bursting more than just the pipes (...like a blood vessel). Take a deep breath and see step two.
Step two is to find the shutoff valve. Turning this off limits the amount of water a restoration company will have to clean up while fixing your pipes. It also decreases the pressure and strain that is currently on your pipes.
Finally, you want to document the mishap. Photos, videos, and a written description of what has gone wrong saves you time in the long run, and makes working with your repair company much easier.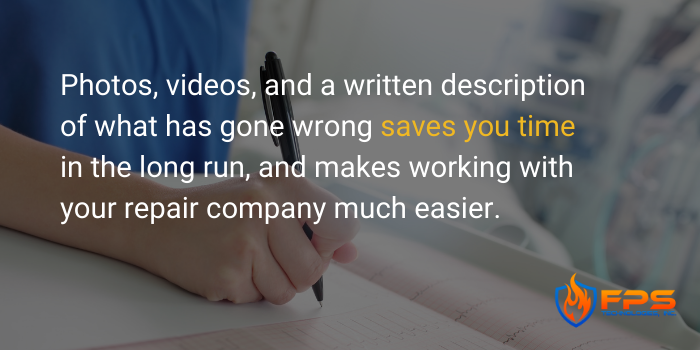 Prevention is the Best Medicine
The best strategy for dealing with frozen pipes is to prevent them from happening in the first place. Download our free Freeze Checklist to make sure your building is ready to survive the cold. If the worst does end up happening, get in touch with us to request service.