Throughout history, fire extinguishers have been known for their notoriously heavy canisters and impractical designs. When they were first made, it was all about how much water or solution they could hold, but now that science and technology have advanced, fire extinguishers are more compact and easier to use.
Portable fire extinguishers are useful to have in your kitchen, your car, or on the go.

What Are Portable Fire Extinguishers?
Most fire extinguishers are portable in the sense that they are hand-held and can be stored almost anywhere, though they are not completely practical in all applications. For example, a full-sized extinguisher may not be the most convenient variety to store inside a vehicle.
Portable extinguishers are smaller and are as the name suggests, portable. They're a good first line of defense for small fires, but are not suitable for use on large fires. Like larger extinguishers, they're designed to fight different types of fires, ranging from paper, fabric, and wood to cooking oils or electrical fires.
They may even work well for owners of housing developments or for placing around your business (in addition to a fire sprinkler system).

Where NOT to Put Your Portable Fire Extinguisher
Recently, we worked with a client who owned a new housing development. Each unit needed extinguishers to meet fire safety codes. To conform properly with these codes, extinguishers must be visible and easy to get to in case of emergency. Most landlords and tenants put them on walls or visible areas in a room.
While this is commonly known among fire officials, the housing developer insisted that we install the extinguisher below the sinks where they were not visible and difficult to reach. The intention was to keep the extinguisher out of sight so it didn't disrupt the decor.
However, we cannot stress enough the importance of having your extinguisher visible and easily accessible during an emergency! When a fire breaks out, you don't want your tenants to have to hunt around for the extinguisher.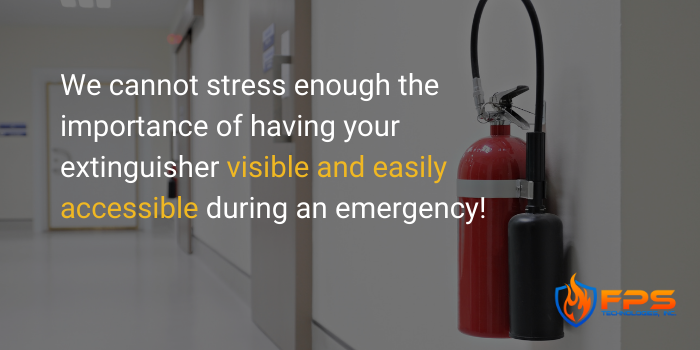 The U.S Fire Administration states that a fire spreads twice in size every 30 seconds, so time is of the essence when preventing fires. Seconds matter when it comes to containing a fire, so you should never hide the extinguisher under a sink.

Great Places to Store Portable Extinguishers
Some property owners have installed boxes on their walls to make the extinguisher blend in more with their decor. Stickers pointing to where the extinguisher is located help as well.
When looking for places to put your fire extinguisher (for yourself, your tenants), consider the following options:
Kitchen
At least one on every floor of the property
Near any source of heat, such as the oven or furnace
Bedrooms — fires often happen when you're asleep
What is a Rechargeable Fire Extinguisher?
Believe it or not, most extinguishers on the market today can be recharged rather than thrown out. In fact, having your extinguisher recharged by FPS costs less than buying a brand new extinguisher. When we recharge it, we'll also take care of any maintenance issues so it'll function just as well as a brand new unit.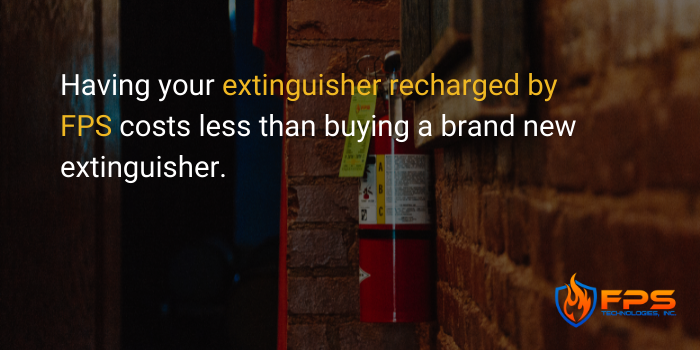 Extinguishers will constantly lose pressure after you use them just once, so don't rely on an extinguisher you have already used or tested. Instead, we recommend you invest in recharging your extinguisher after it's been used.


Are Your Portable Extinguishers Ready for an Emergency?
Now that you're equipped with the skills to make the most of your fire extinguishers, let us know if you need any help along the way. Contact FPS today if you need your extinguishers recharged or inspected, or if you are wondering where to place them in your residential or commercial properties.