Life safety systems are essential for all businesses, but perhaps none more so than the medical industry. Hospitals, outpatient surgery centers, and even small clinics have unique needs, including an inherently higher expectation for their safety measures.
According to the NFPA, firefighters respond to nearly 6000 structure fires in health care facilities annually. These fires result in over $50 billion in property damage each year. Without robust fire safety systems, the property damage and loss of life would undoubtedly be much greater.
Read our complete guide on medical faculty fire system accreditation to learn why medical facilities need robust life safety systems. You'll also see how partnering with a proactive fire safety company can increase your federal funding and what to expect at your accreditation inspection appointment.
Benefits of a Robust Fire Safety System
Medical facilities have many options for their safety accreditation body. The Joint Commission (JC), Health Facilities Accreditation Program (HFAP), and DNV Healthcare are popular among health care facilities in and around Oklahoma. One of the best reasons to become accredited is to receive federal funding to maintain and improve your medical facility. Your safety score is an assessment of many safety systems within your health care facility, including the fire safety system. The better your fire safety system, the higher your score and the more funding your facility is eligible to receive.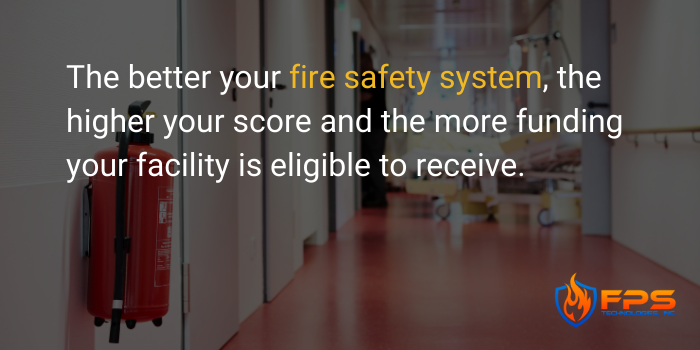 The facility's safety score is also available to the public and can affect whether a patient chooses your facility over another option.
An essential reason to have a robust fire safety system is to facilitate a "defend in place" strategy in the event of a fire. Often, patients in a hospital should not be evacuated unless absolutely necessary due to the increased risk of injury or death. Whenever possible, patients in critical condition should remain in place.
Fire safety components like active fire alarms, fire doors, and sprinklers are essential for a defend in place strategy because they aim to contain and extinguish a fire before it spreads. Only the people near the fire need to evacuate, while patients in other areas of the building can stay safely in place.
Having routine inspections of your robust fire safety system is critical to a successful defend in place strategy. Only when you know that all of your containment components are fully functional can you safely keep patients inside some areas of the building during a fire.
Be Proactive in Managing Your Fire Safety System
Not only are your facility's safety score and federal funding tied to the soundness of your life safety systems, but so are the health and safety of your patients and staff. Many fire protection companies send a technician to check off the mandatory boxes for your fire inspection, but they don't take extra steps to make your fire safety system the best it can be.
Having a proactive fire protection partner is the best way to avoid catastrophic problems or system failures before they happen. Fire safety companies can go the extra mile by identifying aging components and making recommendations for upgrades before the component malfunctions. Your fire protection partner should also actively monitor product recalls and reach out to you about replacing any compromised components of your fire safety system.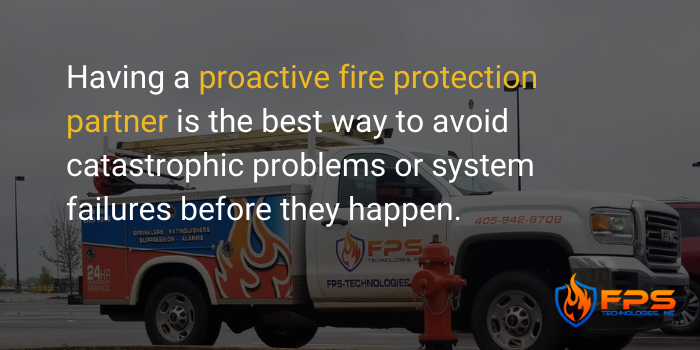 Medical facilities have many safety systems to manage, so a proactive fire protection partner can assist by maintaining your inspection schedule and reaching out with a reminder when it's time for an inspection.
Why Partner with FPS for Your Accreditation?
The Joint Commission and other safety accreditation bodies require that your fire system inspections be done by a licensed technician working for a licensed company. FPS Technologies is Oklahoma's most trusted fire protection company because we are licensed, as are all of our technicians, and we take proactive steps to keep your life safety system in great shape. The benefits of partnering with FPS are:
1. Maintain Reporting Structure
The components of your fire safety system have different inspection schedules. It can be overwhelming to keep up with the different inspection dates, so FPS takes that burden off your plate. We'll maintain your reporting schedule and reach out to you when it's time to schedule an inspection appointment.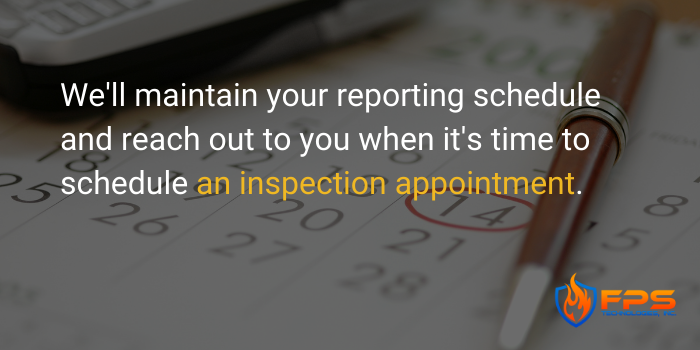 2. Fire Extinguisher Training
If providing a safe environment for your patients and staff is a priority for your facility, then you should take an extra step and provide fire extinguisher training for your employees. Often, fires are put out quickly by fire extinguisher-trained personnel before they can spread.
Though accreditation bodies do not always require personnel training, we recommend it for all businesses, medical or otherwise. FPS offers comprehensive fire extinguisher training so that your staff are confident and prepared to deal with an emergency.
3. Quarterly Drill Inspections
We offer fire drill assistance for interested facilities. We can assist with timing the evacuation and ensuring that all fire panel components activate and reset correctly during and after the drill.
4. Recommendations for Noncompliance
All fire system inspection companies will let you know if a portion of your fire safety system is not in compliance. However, FPS takes the extra step to make recommendations about how to resolve the issue. We're also proactive in helping you avoid issues before they arise by notifying you about product recalls or identifying aging components before they have a chance to fail.
5. Improve Your Safety Score
We want your patients and staff to be safe and have the best health care possible, so we make recommendations to improve your site safety score. If we see an area that we think you can improve, we'll let you know.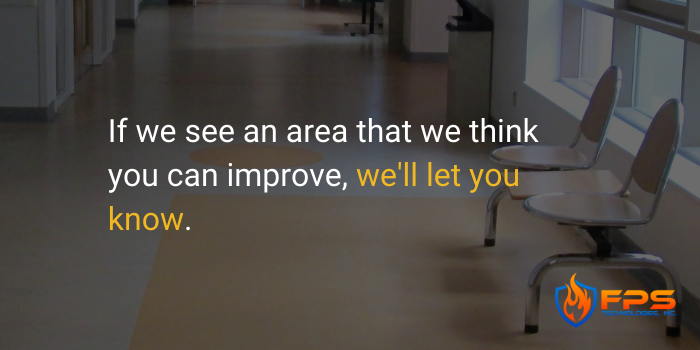 What to Expect at Your Accreditation Fire Inspection
When it's time for your accreditation fire inspection, we'll reach out to schedule a time that's convenient for you. When we arrive, our technicians will let your staff know which areas of the building we'll be accessing that day. In many cases, we'll be throughout the entire building, but it depends upon which components of your system are due for inspection.
We begin by disabling the fire panel so that it doesn't go off during the inspection and disrupt your patients and staff. After that, we'll use a handheld smoke wand to test each smoke detector. Then we inspect the sprinkler system for damage and reset the alarm panel.
After each inspection, we create a detailed report. If you're a first-time client, this process will take longer because we need to set up a barcode system for each device. Subsequent inspections are very efficient because we simply scan the barcodes as we work our way through your facility and seamlessly generate your inspection report.
If any portion of your fire safety system does not meet your chosen inspection body's requirements, we will alert you and make recommendations for resolving the issue. We're happy to make repairs or replace equipment within the required timeframe (often ten calendar days, depending on the accreditation body).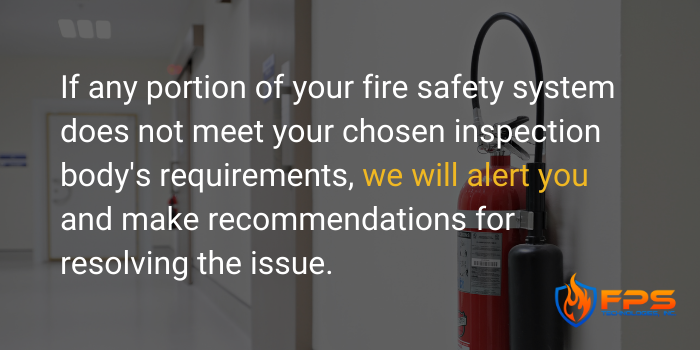 Schedule Your Medical Facility Inspection
If you're ready to partner with a proactive fire protection company that can help you create and maintain a robust fire safety system, then schedule your inspection with FPS Technologies today.