Your patients and employees want and deserve a fire system that will keep them safe. According to the NFPA, firefighters responded to 5,750 incidents annually to various health care facilities between 2011-2015. Not only did these fires result in $50.4 billion in direct property damage, but they also resulted in an average of two deaths and 157 injuries each year.
A fully functioning fire safety system is not the only component involved in accreditation from the Joint Commission, Health Facilities Accreditation Program, and DNV Healthcare. However, it is a crucial portion that can prevent property damage, ease the minds of people in your building, and ensure fire hazards don't result in injury or loss of life.
What are the Benefits of Having a Robust Fire System?
If all components of your fire safety system are fully operational, you have the potential to receive a higher safety score during your accreditation. Your building's safety score is determined by a number of factors, including the functionality of different safety components in your building. It's also a resource used by the federal government to determine the amount of federal funding you receive. The higher the score, the more money you're eligible to receive.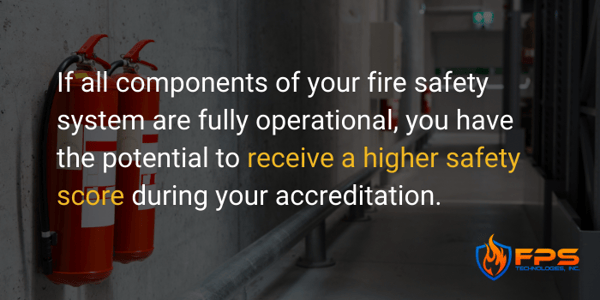 Your facility's safety score is also available to the public, meaning that a higher score gives your patients peace of mind knowing that your building complies with high standards for your safety systems and procedures.
Not only are you able to receive more federal funding by maintaining a functioning fire safety system, but it also allows your facility to utilize a "defend in place" strategy in the event of a fire.
What is "Defend in Place"?
"Defend in place" is a strategy used by hospitals and other medical facilities where it might not be possible or practical to evacuate an entire building. Hospitals face a unique situation where, in some cases, evacuating everyone presents dangers to staff and patients. For example, patients who are using life-sustaining equipment shouldn't be moved if it's not absolutely necessary. Doing so may cause severe damage or even death to the patient. In that case, the best solution is to defend in place.
Facilities using this strategy typically have fire safety components like active alarms, fire doors, and sprinklers to contain a fire to a specific area. When the components activate, they aim to contain and extinguish the fire so that only people in the immediate vicinity of the incident have to evacuate. Patients in other areas of the building can remain in place safely.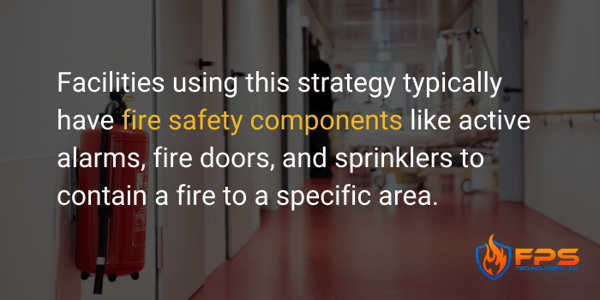 This strategy, however, is dependent on the fire safety system acting swiftly and effectively. Unless every component of your fire system is fully functional, this poses a severe threat to your patients and staff. An accreditation with JC, HFAP, or DNV helps you know that the building's safety systems are routinely inspected and ready to assist your staff and patients in using the defend in place strategy.
However, the most essential part of maintaining a robust fire system is that it contributes to the actual degree of safety in your facility. Not everyone in your building can engage in a timely evacuation, so maintaining a fire system that allows them to defend in place and remain in their room can prevent severe injuries and even save lives.
Is Your Fire Safety System Up to the Task?
A top priority of any medical center is ensuring the people's safety and care in the facility. Providing a full and effective fire safety system is just one way you can help provide that care that will make any patient's stay at the facility as easy as possible.
If you'd like to partner with a fire protection company that understands how important a robust life safety system is to facilitate a successful defend in place strategy, then get in touch with FPS. We can perform your accreditation inspections (and help you keep track of when they're due), make recommendations for equipment upgrades that can improve your safety score (and federal funding), and keep your patients and staff safe in your facility. Schedule your inspection today.