There are many processes involved in maintaining an accredited fire safety system in a medical facility, which is why FPS works to minimize the steps that you need to remember and manage. From notifications on inspection timelines to recommendations for any part of your system that isn't up to code, FPS will guide you through the process to make your accreditation inspection as seamless as possible.
Read on to learn five specific ways that FPS makes your accreditation process easier and helps you maintain your accreditation.
How Can FPS Make My Accreditation Process Easy?
Joint Commission, Health Facilities Accreditation Program, and DNV Healthcare all have varying inspection requirements. Keeping track of every individual requirement is a big responsibility, but it's not all on your shoulders. No matter which accreditation body you're using, FPS offers a wide range of services to make your accreditation process as simple as possible.
1. Maintain Reporting Structure
Some of the components of your fire safety system require different testing frequencies, and FPS can assist you in managing your timeline. We'll keep track of when each part of your fire system needs an inspection and send you an alert so you can put us on your calendar. When you partner with FPS, you never need to worry about missing an inspection and jeopardizing your accreditation.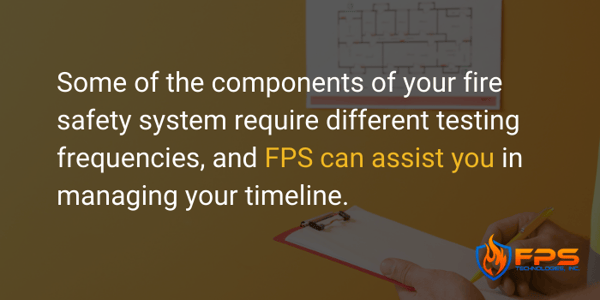 2. Fire Extinguisher Training
Some accreditation bodies require medical facilities to train their employees how to use a portable fire extinguisher, and FPS gladly offers training to clients who request it. Even if training isn't required for your accreditation, we still recommend it anyway. You can never predict when you may need to put out a fire, so being proactive in your training will give you and your staff peace of mind that they're equipped to handle an emergency.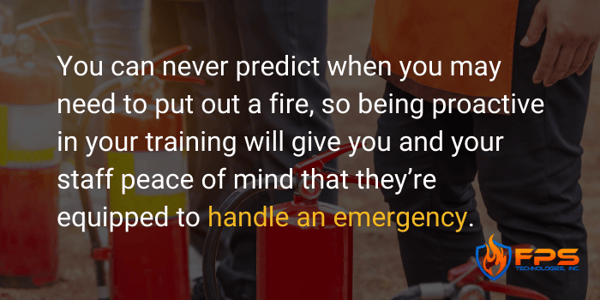 3. Quarterly Drill Inspection
FPS is available to observe and assist in your quarterly fire drill if your facility requests it. FPS will attend the fire drill and ensure that the fire panel components activate and reset correctly. If you're interested in timing the evacuation, we can also help with that.


4. Recommendations for Noncompliance
If a portion of your fire safety system didn't pass the accreditation inspection, FPS can offer support and suggestions on how to resolve the issue. We can also perform timely repairs and maintenance where needed to help you maintain accreditation.
We're also proactive in helping you avoid issues before they arise. For example, if the sprinkler heads in your facility are under a recall, we can alert you, source new sprinkler heads, and complete the installation. Additionally, part of our reporting process includes bringing your attention to any parts of your fire safety system that are aging or beginning to malfunction. This prevents your fire safety system from becoming obsolete and becoming an issue later on, which provides better safety and security for your patients and staff.


5. Improve Your Safety Score
Finally, and most importantly, FPS can help you increase or maintain your safety score. A facility's safety score is assigned based on your entire facility's accreditation, but fire safety is an important component of that. During our inspection and reporting, we make suggestions that can help you raise your safety score to secure additional federal funding for your facility. And best of all, it gives your patients and coworkers a safe and healthy environment to allow them to operate at their best.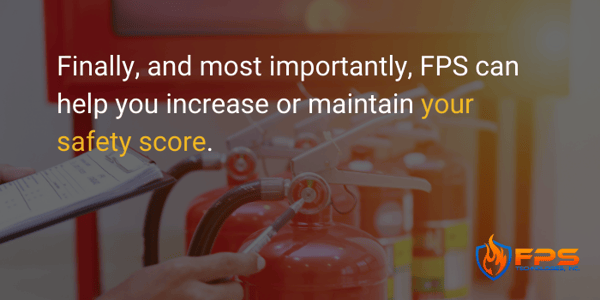 Schedule Your Inspection Today
If you're ready to partner with a fire safety company that takes customer service to the next level, then get in touch with FPS today. We'll help you stay on track with your inspections, catch issues before they arise, and offer recommendations to earn the highest safety score possible. Schedule your inspection appointment today.